Project Superiority
The stone materials are crushed preliminarily in the jaw crusher. Secondly, the crushed rough stone materials are transported into the impact crusher for further crush by the belt conveyor. Thirdly, the stone materials are separated into two parts by the vibrating screen, and one part whose size is suitable for the sand making machine will be transported into the sand making machine, and the other part of the stone will transported into the impact crusher. Some of the former part of the stone which are crushed in the sand making machine will turn into required sand, and be washed by the sand washing machine (selectable), and the rest stone materials will be transported into the impact crusher for crush once more.
This sand production line has features of high automation, low operating costs, high crushing ratio, low energy consumption, large output, convenient maintenance, uniform granularity and good shape of the products, reasonable gradation, and the produced sand conforms to the national standard of construction sand.
Features and Advantages of Sand Production Line: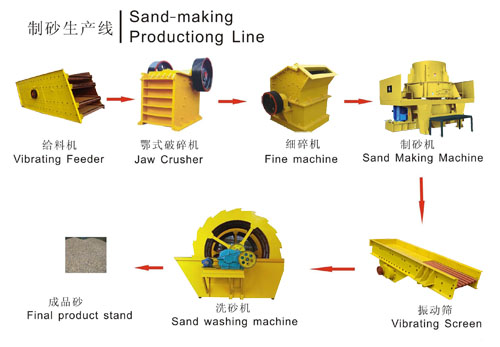 [1]High degree of automation;
[2]Low operation cost with high rate of crushing;
[3]High Capacity with low pollution;
[4]Easy maintainence;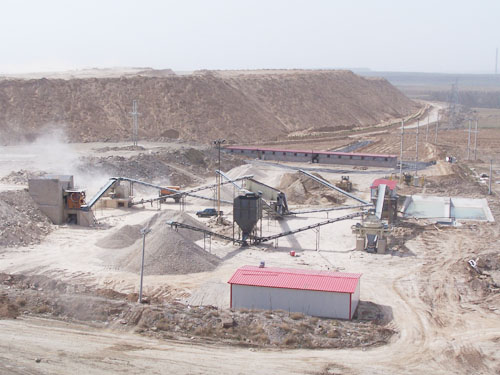 [5]The manufacture sand meet the national standard of building sand. It is epigranular, cubic shape and reasonable gradation of sand.
The configuration of equipments of manufactured sand is mainly based on customers requirements on dimension of finished sand, capacity and the purpose of the sand. Zhengzhou Dongfang Heavy Machinery provides presale, midsale and aftersale services for customers. We strive our selves to design the most reasonal and economical flow chart for you.