Coal Briquetting Machine, also called coal powder briquette machine, belongs to one of briquette machines. The main function of coal briquette machine is to press the spread coal powder and coal dust into briquettes, and add a certain amount of adhesive in the necessary time to improve the burning heat value of briquettes. This machine not only solves the problems that coal powder is easy damp and not convenient to transport and use, and also makes the coal powder burn more sufficiently, reduce dust and improve resource utilization rate. Coal powder briquette machine has the economic and social benefits.

The Features of Coal Briquetting Machine

1. It is mainly used for pressing briquette generated from coal washing plant or power plant into lumps or balls. The coal briquette can be directly put into the furnace for combustion or smelting, so as to increase the added value and achieve the reuse of resources.
2. Coal briquetting machine is a kind of equipment used for making coal briquettes or coal powder, which has extremely extensive applications. Its purpose is to reduce dust, control the bulk density, return to use and improve transport properties. It has started in the world, which not only can increase the efficiency of enterprises, but also reduce the waste of resources.
Structure of Coal Briquetting Machine
Coal Briquette Machine or Coal Briquetting Machine consists of three parts: feeding part, driving part and molding part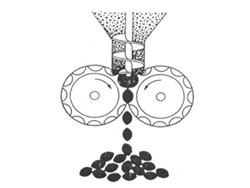 1. Feeding part, it mainly achieves quantitative feeding so as to ensure the materials get into the roll uniformly.
2. Driving part, the main driving system of driving part includes: motor/triangle strips/reducer box/exposed gear/roll.
3. Molding part, it mainly refers to the host position and its core part is the roll.
Application Range of Coal Briquetting Machine
Dongfang coal briquetting machines can be used to suppress various powders, scrap, waste residue such as pulverized coal, iron powder, coking coal, aluminum ash, iron filings, iron oxide scale, carbon dust, powdered carbon, slag, gypsum, gangue, sludge, kaolin, active carbon, coke breeze and so on. Coal briquetting machines and coal briquette machines are widely used in refractory, powder plant, metallurgical, chemical engineering, energy, transportation, heating and other industries. The molding materials made by the coal ash briquette machines and coal briquetting plant are energy conservation and environment protection and easy to carry. Coal briquette press machine also improves the utilization rate of waste, which has significant economic benefits and social benefits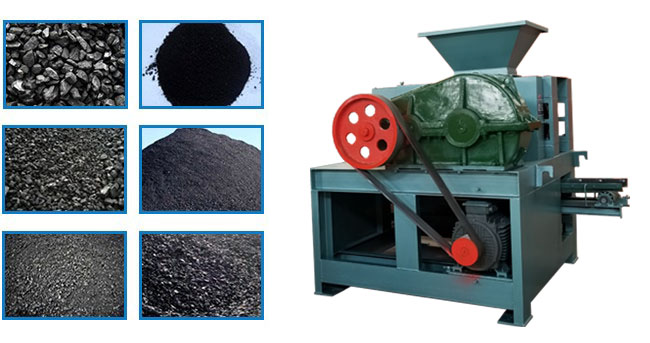 Dongfang Machinery is specialized in the production of coal briquette machines and ancillary equipment, which can press briquette into balls for one time with high yield and high hardness. It has been applied to many domestic power plants, coal washing plants and coal briquette plants, which has achieved good results. The
coal briquetting machine
produced by Donfang Machinery has high ball forming rate, strong hardness of pressed balls, not easy to be broken during handling, which is well approved by customers. The finished balls can be used by power plant, coal washing plant and briquette factory.If you want to know more, you can pay a visit to coal briquette production sites.
Main technical parameters of Coal Briquetting Machine



DF-290

DF-360

DF-500

DF-650

DF-750

DF-850

remark

Capacity(t/h)

0.5-1.5

2-3

5-7

10-12

18-20

25-30

Roller width(mm)

250

280

300

336

400

500

(65Mn)

Roller diameter(mm)

290

360

500

650

750

850




power

5.5kw

7.5kw

18.5kw

30kw

45kw

75kw




Spindle speed

18r/min

15 r/min

13 r/min

13 r/min

13 r/min

10 r/min

reducer

ZQ290

ZQ360

ZQ500

ZQ650

ZQ750

ZQ850

Standard Configuration

Pressure form

Constant pressure

Either is ok

Shaft seat rod

Hydraulic

Roller material

65Mn

65Mn

65Mn

65Mn

65Mn

65Mn

Either is ok

9cr2mn

9cr2mn

9cr2mn

9cr2mn

Alloy steel

Spindle(mm)

Ø95

Ø110

Ø135

Ø165

Ø165

Ø180



,

45#steel

45#steel

Forge

Forge

Forge

forge




Ball size

As clients requirement

Usually 30-60mm