Ore Powder Briquetting Machine is used to press a variety of iron ore powder, oxide iron sheet, steel slag, refractory, etc. Rollers adopt 65 manganese casting, whose hardness can up to 58 degrees after a special heat treatment. Rollers are assembled by the composite, which is easy replaceable after wear. Iron Ore powder ball press machine has buffer device to protect itself against a hard object impact. Ore powder ball press machine has adjustable device to keep two rollers always within the tuning range, never misplaced. Ore powder ball press machine is also a kind of energy-saving & environmentally friendly products. For example: dust, pool mud, oxide sheet, slag, iron powder, aluminum ash, silicon manganese powder, etc., after shaping, easy to transport, improving the utilization of waste , with good economic and social benefits.
Structure Principle of Iron Ore Fines Briquette Machine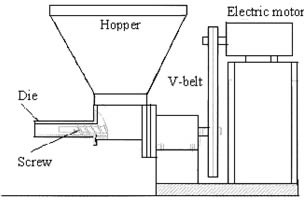 1. Feed section: to make sure materials enter the double rollers evenly by feeding in ration.

2. Driving section: the main driving system is made up of electromotor, triangle section, reducer, open gear and rollers.

3. Briquetting section: the main body of the briquetting machine; the rollers as the core part.
Without proper solutions, iron ore fines produced in iron ore processing will be flew away by rainwater or blew away by wind, thus resulting in resources waste and environment pollution as well. Fote iron ore fines briquetting machine is the most ideal equipment specially designed for processing these iron ore fines. This iron ore fines briquette machine can be used to compress iron ore fines, iron powder, mill scale, steel powder, ferrosilicon powder, etc. to form differently shaped briquettes that are rigid and unbreakable in the process of transportation and smelting.

Final Briquettes of Iron Ore Fines Briquette Machine
The finished briquettes made by this iron ore fines briquette press machine can be used for metal smelting or as auxiliary materials of chemical and metallurgy. They have found extensive application in coal, metallurgy and chemical industry. The iron ore fines briquette machine has become increasingly indispensable in iron ore fines and other powders processing in that it makes great contribution to resources reutilization and create tremendous economic benefit to enterprises.
Technical Data of Iron Ore Fines Briquetting Machine
Model
Reducer
Speed ratio
Roller dimension
(mm)
Principal axis speed
Power
(kw)
Capacity
(h/t)
Gear
(z/m)
Overall dimension
(L*W*H) (m)
Bearing
Weight
(t)
360A
JQ 350
1:27.32
Ø360/245
14-17
7.5
3-4
45/8
1.3*1.15*1.6
6021=8\206=4
2
360B
JQ 350
1:27.32
Ø360/258
15-18
7.5
3-4
45/8
1.4*1.4*1.6
116=8\206=6
1