Our hammer crusher (hammer mill) series products are applicable for various hard and fragile materials, such as limestone, coal, salt, gypsum, alum, brick and tile, etc. the crushing compressive strength of materials should not be in excess of 150Mpa. The hammer crusher is mainly used in such industries as cement, coal separation, electricity generation, building materials and compound fertilizer, etc. The hammer crusher can crush materials with different sizes into equal particle, which favors the next procedure. The hammer crusher has the advantages of reliable mechanical structure, high productivity and favorable applicability.
Features and functions of Hammer Crusher:
Hammer Crusher has the advantages of highly structured, reasonable structure, convenient installation, simple operation especially for the cement industry.
It has a special structure features of big crushing ratio for crushing material.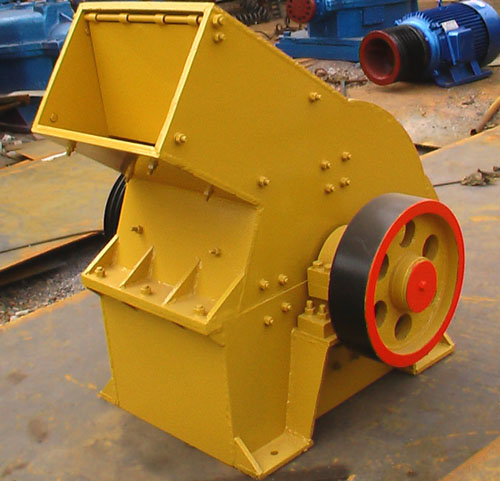 Hammer Crusher is seperated into two types: common hammer crusher, ring hammer crusher. The ring hammer crusher is widely used in coal and coke industry.
Main technical parameters of Hammer Crusher:
Model

Feeding

size
(mm)

Dischaging size

(mm)

Capacity(t/h)

Motor

power
(Kw)

Weight
(Kg)

PC400*300

<=100

<=10

5-10

11

800

PC600*400

<=120

<=15

10-25

18.5

1500

PC800*600

<=120

<=15

20-35

55

3100

PC1000*800

<=200

<=13

20-40

115

7900

PC1000*1000

<=200

<=15

30-80

132

8650

PC1300*1200

<=250

<=19

80-200

240

13600
Main technical parameters of Ring Hammer Crusher:
Model

Feeding Size(mm)

Discharging size(mm)

Capacity(t/h)

Rotor speed(r/min)

Motor

Weight(t)

Model

Power

PCH0402

<=200

<=30

8-12

960

Y132M2-6

5.5

0.8

PCH0404

<=200

<=30

16-25

970

Y160L-6

11

1.05

PCH0604

<=200

<=30

22-33

970

Y180L-6

15

1.43

PCH0606

<=200

<=30

30-60

980

Y225M-6

30

1.77

PCH0808

<=200

<=30

70-105

740

Y280M-8

45

3.6

PCH1010

<=200

<=30

160-200

740

Y315M2-8

90

6.1

PCH1016

<=300

<=30

300-350

740

JS-128-8

155

9.2

PCH1216

<=350

<=30

620-800

740

Y450-8

355

15.0

PCH1616

<=400

<=30

700-900

740

YKK5001-8

400

19.3