The vertical compound crusher is widely used for crushing various materials, such as stone, granite, trap rock, coke, coal, manganese ore, iron ore, emery, fused aluminum, oxide, fused calcium carbide, limestone, quartzite and alloys.
Features of Compound Crusher:
(1) The structure is reasonable and simple and the operation cost is low.
(2) The crushing rate is high.
(3) It has the function of grinding and coarse grinding.
(4) The material humidity has less effect on the machine. And the material humidity can get to be about 8%.
(5) The dust pollution is less.
(6) It's applicable to crush hard and medium hard material.
(7) The product shape is cube and bulk density is bigger. Iron pollution is less.
(8) The impeller's abrasion is small and the maintenance is convenient.
Working principle of Compound Crusher: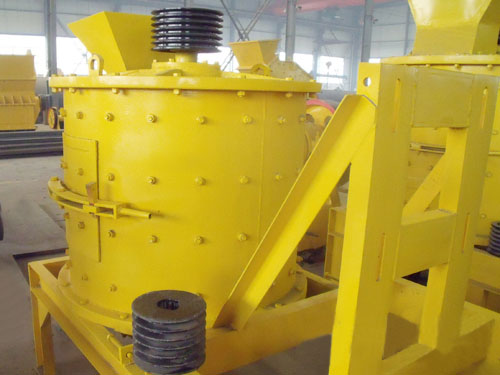 The materials drop into the high-speed rotating impeller vertically from the head of the machine and are impacted and grinded under the effect of high-speed centrifugal force with other part materials which distribute with umbelliform shape around the impeller. After impacting each other, the materials impact and rub each other between the impeller and machine casing, then they are discharged from the under-part forming a closed-circuit cycle. The required product granularity is controlled by the screen equipment.
Main technical parameters of Compound Crusher:
Model

Feeding size

(mm)

discharging size

(mm)

Capacity

(t/h)

Rotating speed of main shaft

(r/min)

Motor power

(kw)

Overall dimension

(mm)

PFL-800

<100

<3-5 60-90%

10-20

934

22

2100*1200*1700

PFL-1000

<120

<3-5 60-90%

20-40

769

37

2600*1400*1900

PFL-1250

<150

<3-5 60-90%

40-70

530

75

2800*1600*2100

PFL-1500

<180

<3-5 60-90%

70-100

495

132

3100*1900*2200

PFL-1750

<200

<3-5 60-90%

130-190

424

160

3710*2360*2390

PFL-2000

<220

<3-5 60-90%

100-160

370

185

4100*2660*2620