The rotary drum dryer of our company, also called dryer. It is widely used in building material, metallurgy, chemical engineering, and cement industries for the drying of slag lime stone, powdered coal, slag and clay. This dryer consists of rotary body, throwing flitch, transmission device, supporting device and sealing ring. It has the features of reasonable structure, fine processing, high output, low energy consumption, and convenient running.
How The Rotary Dryer Works
Consolidating, roasting and drying are achieved by passing the material through a rotating cylinder. Steam pipes are placed around the rotating cylinder and covered by the steam layer. The raw material is roasted and dried by directly contact with the steam layer or hot steam generated from the steam pipe. The surface of the material dried is perfectly smooth and neat, allowing the high quality dried material.
Main features of rotary drum dryer:
1. The dryer is of strong overload capacity resistance, large process load, low fuel consumption, and low cost.
2. It adopts direct flow drying method. The gas fume and the material go to the dryer from the same side. By using the hyperthermia gas fume, the evaporation strength is very high. With the low outlet temperature, the heat efficiency is very high.
3. The operating parameter can be changed according to different materials. So that the material can form a stable fabric curtain and achieve fully heat exchange.
4. The new type feeding and discharging device solve the problem of feeding jam, discontinuous and uneven feeding, and returning charge which lighten the load of dedusting system.
5. The new inner structure strengthens the cleaning and heat conduction of the dispersed material, and eliminates the bonding in the inner drum wall. The adaptability to the material moisture and stickiness is stronger.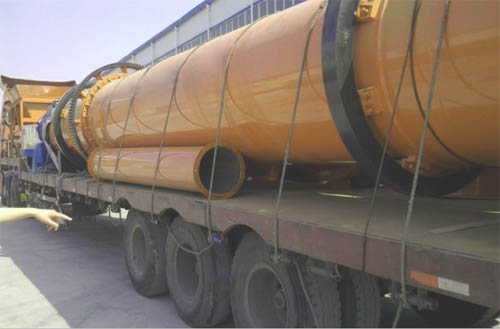 6. The zero level thrust of the dryer reduces the abrasion to the catch wheel and the riding wheel. The operation of the rotary drum is stable and reliable.
7. The dryer adopts the riding wheel device, which make the riding wheel and the rolling ring linear touch all the time. Thus the abrasive and the power loss are greatly reduced.
8. The granularity and the moisture and be controlled by the customer¡¯s demand. When drying the coal slurry, the product moisture can be less than 8% and the granularity and be less than 8mm.
Main Technical Parameters of rotary drum dryer:
| | | | |
| --- | --- | --- | --- |
| Model | Power | Capacity | Moisture content reduced |
| RD-75 | 7.5KW | 1-3T/H | 5-10% |