Stone crusher is also called rock crusher.The crushing working is divided into coarse crushing, intermediate grinding and fine grinding according to the discharging and feeding granularity. The common sand equipments are jaw crusher, impact crusher, shaft impact crusher, compound crusher, single hop hammer crusher, central hammer crusher, hammer crusher, cone crusher, roller crusher and so on.
Jaw crusher is the machine which uses the sequenzing action and flexion generated from the two jaw plate impacting the materiel. It can coarse grind and intermediate grinding all kinds of hard materiel. Jaw crusher's curshing structure is composed of fixed jaw plate and movable jaw plate. The materiel is crushed when the two jaw plate comes together and the material with size less than discharging opening will be discharged from the bottom when the two jaw plates departed. The crushing movements are carried out intermittently. This kind of crushing machine is widely used in various industries such as mineral selection, construction material,silicate, ceramics, etc.
Roller crusher is the machine that uses roller surface's friction force to deliver the material to crushing zone, and then the material is cracked by extrusion. The roller crusher is used for coarse crushing, or when large size reduction ratio is necessary. The roller surface usually appears teeth or groove to enhance cleaving force. Roller crusher can be divided into single roller crusher, double roller crusher, or mutiple roller crusher based on roller quantity. This crusher can be used for coarse crushing, medium or fine crushing of hard and medium hard material such as coal, limestone, clinker or feldspar, and so on.
Hammer crusher has the advantages of large reduction ratio, even discharging size, less powder, low energy consumption, etc. But due to easy damagable hammer, the crusher is suitable for crushing hard material. Besides, it is also not suitbale for crushing material with high humidity or clay to prevent grid jam. So this kind of of crusher is usually used for crushing brittle material under middle hardness such as limestone, shale, coal, gypsum, chalk, etc.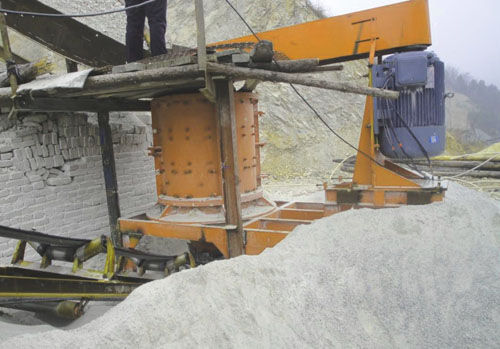 Impact crusher is the machine that crushes material by repetitive high-speed impact of hammer and springback of impact plate. The hammer is fixed to high-speed rotating roller, and several impact plates are outlayed along the crushing chamber at different angles.