Coal Briquette Machine can be used to suppress the pulverized coal, iron, coal, aluminum, iron, iron oxide, carbon powder, charcoal powder, slag, gypsum, tailings, sewage sludge, kaolin, activated carbon, coke powder and other powder, powder, waste, waste residue, widely used in power plants, metallurgy, refractory, chemical, energy, transportation, heating and other industries, after molding by ball press machine, the material features energy saving and environmental protection, convenient transportation, improve the utilization rate of waste, have good economic benefit and social benefit.
Type Coal Briquette Machine structure and composition
1, the feeding part,is used to feed material so that the material can feed to rolloer evenly ,it is drived by Spiral comprises electromagnetic motor . the material through a belt wheel, a worm speed reducer to rotate, the pressed into the feed inlet. As a result of electromagnetic speed regulating motor constant torque characteristic, when a screw feeder pressure feeding quantity and host machine needed materials when equal amounts, can maintain a constant feed pressure so to keep pellet quality. If the feeding quantity is too large, then feeding device of electrical overload; the feeding quantity is too small then not into a ball. Therefore, the skilled operation technology is the key factor to guarantee the normal work of ball press.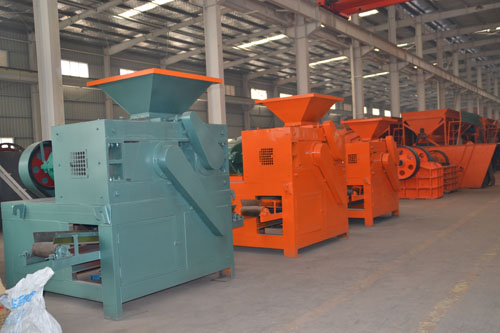 The transmission part, main transmission system is: Motor - triangle belt - reducer - Open Gear - roll. Host machine powered by electromagnetic, from a belt wheel, cylindrical gear reducer, through the rod coupling pin to drive shaft. The driving shaft and the driven shaft through open gear ensures synchronous operation. Passive bearing seat is provided with a hydraulic device. Hydraulic protection device is composed of a hydraulic pump high pressure oil into the hydraulic cylinder, the piston to generate axial displacement. Piston rod connected to the front head on the bearing seat to meet the production requirements of pressure.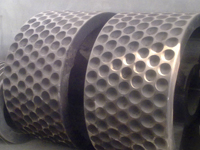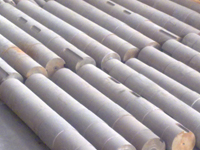 3. Forming part, mainly refers to the part of the host machine, its core part is roller. When the two roller feeded too much or enter the metal block, the piston rod of a hydraulic cylinder pressure overload, hydraulic pump will stop, the accumulator on pressure buffer, overflow valve opening oil return, piston rod shift of the press roll gap is increased so that the hard objects can pass through roller, pressure system returns to normal, thus can protect the roller without damage. The machine can adjust press according to press density , features flexibility.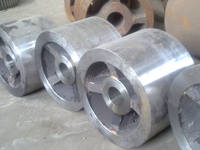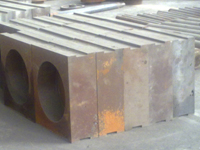 Main technical parameters of Coal Briquette Machine:
DF-290

DF-360

DF-500

DF-650

DF-750

DF-850

remark

Capacity(t/h)

0.5-1.5

2-3

5-7

10-12

18-20

25-30

Roller width(mm)

250

280

300

336

400

500

(65Mn)

Roller diameter(mm)

290

360

500

650

750

850

power

5.5kw

7.5kw

18.5kw

30kw

45kw

75kw

Spindle speed

18r/min

15 r/min

13 r/min

13 r/min

13 r/min

10 r/min

reducer

ZQ290

ZQ360

ZQ500

ZQ650

ZQ750

ZQ850

Standard Configuration

Pressure form

Constant pressure

Either is ok

Shaft seat rod

Hydraulic

Roller material

65Mn

65Mn

65Mn

65Mn

65Mn

65Mn

Either is ok

9cr2mn

9cr2mn

9cr2mn

9cr2mn

Alloy steel

Spindle(mm)

Ø95

Ø110

Ø135

Ø165

Ø165

Ø180

45#steel

45#steel

Forge

Forge

Forge

forge

Ball size

As clients requirement

Usually 30-60mm