The size which impact crusher can deal with can¡¯t be more than 120-500mm and all kinds of rough, middle, fine ore¡¢rock (granit, limestone, concrete and so on )¡¯s compression strength can¡¯t be more than 320MPa.
The crusher can be widely used in water, electricity, highway, artificial aggregate production, crushing business and so on. This series of impact crusher which is fit for hard rock crushing has special crushing structure, high chromium plate hammer, special impact plate.
The size of discharging can be adjusted so as to simplify the crushing circuit.
It has the advantages of big crushing ratio, high crushing efficiency, cube showing of the product shape and optional crushing function.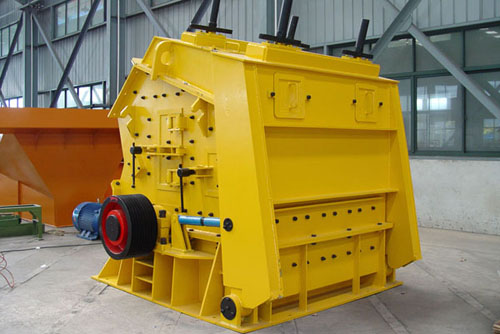 Working Principle of Impact Crusher:
Impact crusher is the machine which breaks materials using the impact energy. The rotor rotates with a high speed driven by power motor when the machine is working. When the materials get into hammer effect area, they are impacting to break with the hammer on the rotor and then threw to the impacting position to take another crushing. After that they spring back to hammer impacting area from impact wrist plate to take crushing again. This procedure repeats itself. The materials get into 1,2,3 impact cavity from big to small to take repeated crushing. When the material is crushed to the required size, it's discharged from the outlet. The material's discharging size and shape can be changed through adjusting the gap between impact frame and rotator.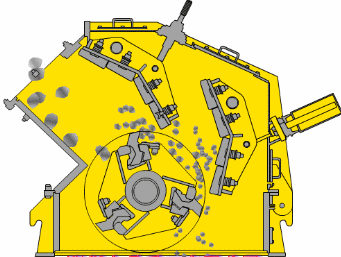 Main technical parameters of Impact Crusher:
Model

specifications (mm)

Feeding size(mm)

Biggest size of material(mm)

Capacity

(t/h)

Motor power(kw)

PF-0607

ø-644*740

320*770

100

10-20

30

PF-0807

ø-850*700

400*730

300

15-30

30-45

PF-1008

ø-1000*800

400*830

300

30-50

37-55

PF-1010

ø-1000*1050

400*1080

350

50-80

55-75

PF-1210

ø-1250*1050

400*1080

350

70-120

110-132

PF-1212

ø-1250*1250

400*1300

350

100-150

132-160

PF-1214

ø-1250*1400

400*1430

400

130-180

160-200

PF-1315

ø-1320*1500

860*1520

500

160-250

180-260

PF-1320

ø-1320*2000

860*2030

500

300-350

300-375