Vibrating Feeder can feed the lump, grainess material evenly and continuously to the accepting set. In sand making line , vibrating feeder can feed the material evenly and continuously avoiding the blockage of crusher feeding mouth. Vibrating feeder has the features of simple structure and operation, no need lubricant and low power consumption; It can adjust the feeding quantity evenly. It is widely used in mine, macadam court, metallurgy,construction, chemical, mine, core industry, etc.
Working principle of Vibrating Feeder: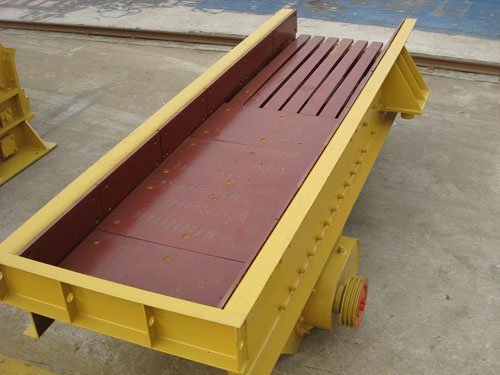 Vibrating Feeder drives the screen, vibrator to make continuous circular motion by centrifugal force which is generated from the eccentric block rotating. And then the materials make continuously throwing motion on the oblique screen surface and are sending to the feeding opening evenly and continuously.
Main technical parameters of Vibrating Feeder:
Model

Hopper dimensions

(mm)

Max feeding size
(mm)

Output

(t/h)

Power(kw)

Weight
(kg)

Overall dimensions(mm)

GZD-800*3000

850*3000

400

80-120

1.5*2

3895

3100*1800*1600

GZD-960*3800

960*3800

500

120-210

2.2*2

3980

3850*1950*1630

GZD-1100*4200

1100*4200

580

200-430

3.7*2

5570

4400*2050*1660

GZD-1100*4900

1100*4900

580

280-500

5.5*2

6520

5200*2050*1700

GZD-1300*5200

1300*4900

650

450-600

7.5*2

8200

5200*2350*1750