Hydraulic Briquetting Machine can press all kinds of ore powder, metal powder, coal powder, coke powder and other materials into ball shape. Because of mandatory squeeze of rollers, the final product features of high-density, high strength, high hardness. Moreover, adopting 650mn hard wear resistance materials rollers, which improve hydraulic ball press machine service life effectively.
Working principle of Hydraulic Briquetting Machine
The hydraulic protection device of hydraulic briquette machine or hydraulic briquetting machine adds hydraulic oil into the hydraulic cylinder by the hydraulic pump, thus making the piston do axial displacement. The front connector of piston has been pressed against the bearing seat to meet the requirements for the production of pressure. When feed too much material in the two rollers of Hydraulic Briquetting Machine or there is some metal block there, the pressure that the hydraulic cylinder piston rod born will overload. Then the hydraulic pump will stop, the energy accumulator will play a buffer role on the pressure change, the relief valve will open for oil returning and the piston rod will shift to increase the the gap of the compression rollers to ensure hard objects to pass through the rollers. As a result, the system pressure will return to normal, which will protect the compression rollers from damaging. The hydraulic briquette press machine can adjust its pressure according to the requirements for the ball density, so production maneuvering is rather flexible.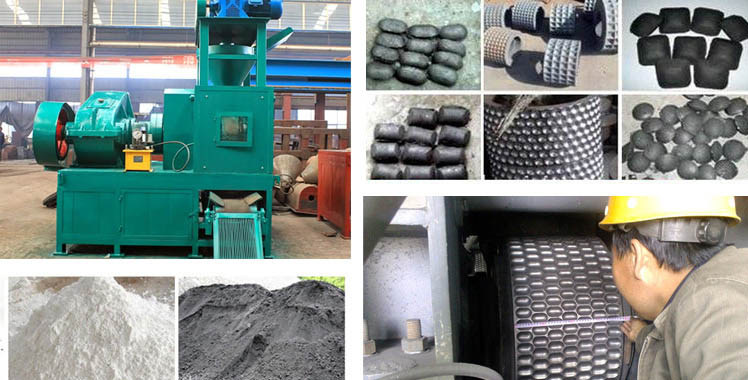 After thirty years research, the company has developed 1-50000 tons mechanical shaping machine & 3-100000 tons hydraulic shaping machine, more than 10 series, over 20 kinds of shaping machinery and equipment. This series of industrial shaping equipment is not only suitable for industrial gas-making, boiler coal, cold pressing coke, ignition coal, civil coal, but also applies to civil metallurgy, refractory, and pharmaceutical materials, etc various molding.
Main technical parameters of Hydraulic Briquetting Machine



DF-290

DF-360

DF-500

DF-650

DF-750

DF-850

remark

Capacity(t/h)

0.5-1.5

2-3

5-7

10-12

18-20

25-30

Roller width(mm)

250

280

300

336

400

500

(65Mn)

Roller diameter(mm)

290

360

500

650

750

850




power

5.5kw

7.5kw

18.5kw

30kw

45kw

75kw




Spindle speed

18r/min

15 r/min

13 r/min

13 r/min

13 r/min

10 r/min

reducer

ZQ290

ZQ360

ZQ500

ZQ650

ZQ750

ZQ850

Standard Configuration

Pressure form

Constant pressure

Either is ok

Shaft seat rod

Hydraulic

Roller material

65Mn

65Mn

65Mn

65Mn

65Mn

65Mn

Either is ok

9cr2mn

9cr2mn

9cr2mn

9cr2mn

Alloy steel

Spindle(mm)

Ø95

Ø110

Ø135

Ø165

Ø165

Ø180




45#steel

45#steel

Forge

Forge

Forge

forge




Ball size

As clients requirement

Usually 30-60mm