Charcoal Briquette Machine is mainly used for pulverized charcoal, charcoal dust, coconut shell charcoal, carbonized charcoal dust, coal slurry, coal powder, coke powder, coke and other loose materials, especially in chemical industry, suitable for wet powder ball pressing. That is, adding an appropriate proportion of water or other liquid adhesive to materials to press ball with low-pressure. Compared to common coal ball press machine, static pressure ball press machine power consumption will be relatively small.

Dongfang Charcoal Briquette Making Machine
In the process of tackling hard-nut problems of coal briquetting plant in science and technology and the development and production of alloy roll, our factory adopts precision casting to achieve once forming. The materials we use include nickel, chromium, manganese, molybdenum, titanium and other alloy materials, which have the significant characteristics of high strength, good toughness, good abrasion resistance and so on, solving the problem of roll wear resistance. The models of our coal briquetting machines, coal briquette plant, coal briquette press machine and coal briquette machine from small to large are fully assembled by wear-resistant alloy with the square multi-edged ball roll, making the products of the users more convenient to put into use.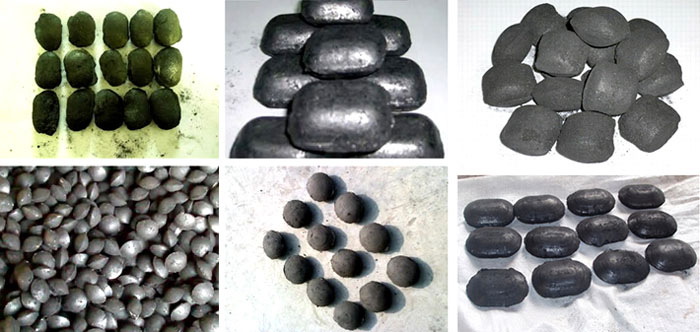 With the breakthrough of technology difficulties, we have successfully designed the coal briquette plant for many customers, which create a new situation of the coal briquette press machine. It realizes the recycling of resources and turns waste into treasure, which not only creates good economic and social benefits, but also carries out the national policy of sustainable development requirements, so there are broad prospects for the development of coal briquetting machine. The coal briquette machine price of our company is favorable and preferential, and we have simple coal briquette press production process, which is available to customers for the on-site testing. If you want to know more, you can pay a visit to coal briquette production sites.
Main technical parameters of Charcoal Ball Briquette Machine
DF-290

DF-360

DF-500

DF-650

DF-750

DF-850

remark

Capacity(t/h)

0.5-1.5

2-3

5-7

10-12

18-20

25-30

Roller width(mm)

250

280

300

336

400

500

(65Mn)

Roller diameter(mm)

290

360

500

650

750

850

power

5.5kw

7.5kw

18.5kw

30kw

45kw

75kw

Spindle speed

18r/min

15 r/min

13 r/min

13 r/min

13 r/min

10 r/min

reducer

ZQ290

ZQ360

ZQ500

ZQ650

ZQ750

ZQ850

Standard Configuration

Pressure form

Constant pressure

Either is ok

Shaft seat rod

Hydraulic

Roller material

65Mn

65Mn

65Mn

65Mn

65Mn

65Mn

Either is ok

9cr2mn

9cr2mn

9cr2mn

9cr2mn

Alloy steel

Spindle(mm)

Ø95

Ø110

Ø135

Ø165

Ø165

Ø180

45#steel

45#steel

Forge

Forge

Forge

forge

Ball size

As clients requirement

Usually 30-60mm