Coal slurry dryer is the new type private slurry drying equipment developed on the basis of rotary drum dryer.
Coal slurry dryer structure:
Coal slurry dryer consists of heat source, beater device, belt loading machine, feeding machine, rotary roller, belt discharger, draft fan, discharger, and switch board.
Coal slurry dryer application and features:
Coal slurry dryer is widely used in the drying of coal slurry. It is the new type heat exchange equipment and dries the materials by panel. It has features of low energy-consuming and stable performance. It is also applicable to other materials drying and dehydration. The drying of coal slurry, raw coal, floatation cleaned coal, mixed clean coal, etc. in coal industry; the drying of blast furnace slag, clay, limestone, sand, quartz stone, etc. in building industry; the drying of metal ore concentrate, waste residue, tails, etc. in beneficiation industry; the non thermo-sensitive substance drying in chemical engineering industry. The heat transmission of this product is by contact and the transmission is by scraper chain. The heat transmission medium is saturated steam (or heat transfer oils). Features: 1. it is of simple structure and easy installation and maintenance. 2. It is of low noisy, low percentage of damage, stable operation and reliable performance. 3. It is of high productivity and low energy-consuming.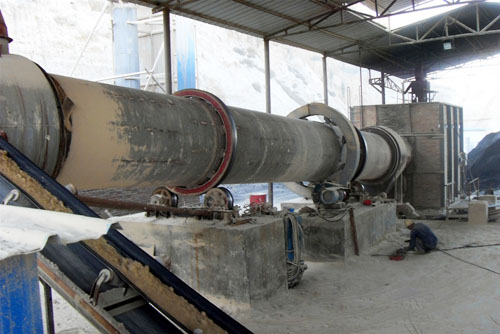 The coal slurry dryer working principle:
Due to the stickiness of the coal slurry, it can be divided into several working areas. The first is guide area where the wet coal slurry meets the hyperthermia hot air and its moisture evaporates fast. As the material is stirred by the shoveling plate of the big lead angle, the bonding can not be formed and was sent to another working area. The second is cleaning area where the wet coal slurry is raised by the shoveling plate and become the material curtain type. So as the material drops down, it is likely to be bound with the rotary drum wall which can be cleaned by the cleaning device reasonable. In this process, the cleaning device can break the clotting which increases the heat exchange area thus improves the drying speed. The third is the slant flitch area where is wet slurry is in the state of low moisture and loose condition. The material here won¡¯t bond. After the heat exchange the material meet the moisture condition demand, and then goes to the last area-discharging area. There is no shoveling plate here. The material rolls and slides to the dumping mouth and the whole drying process are finished.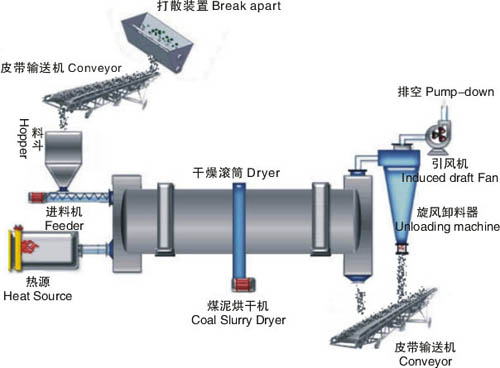 Main technical parameters of coal slurry dryer:
gradient(%)

speed

(r/min)

temperature

(¡æ)

power

(kw)

capacity(t/h)

weight

(t)

§¶600x6000

3-5

3-8

¡Ü700

3

0.5-1.5

2.9

§¶800x8000

3-5

3-8

¡Ü700

4

0.8-2.0

3.5

§¶800x10000

3-5

3-8

¡Ü700

4

0.8-2.5

4.5

§¶1000x10000

3-5

3-8

¡Ü700

5.5

1.0-3.5

5.6

§¶1200x10000

3-5

3-8

¡Ü700

7.5

1.8-5

14.5

§¶1200x12000

3-5

3-8

¡Ü700

11

2-6

14.8

§¶1500x12000

3-5

2-6

¡Ü800

15

3.5-9

17.8

§¶1800x12000

3-5

2-6

¡Ü800

18

5-12

25

§¶2200x12000

3-5

1.5-6

¡Ü800

18.5

6-15

33

§¶2200x18000

3-5

1.5-6

¡Ü800

22

10-18

53.8

§¶2200x20000

3-5

1.5-6

¡Ü800

30

12-20

56

§¶2400x20000

3-5

1.5-5

¡Ü800

37

18-30

60

§¶3000x20000

3-5

1.5-5

¡Ü800

55

25-35

78

§¶3000x25000

3-5

1.5-5

¡Ü800

75

32-40

104.9