Jaw Crusher is widely used in many departments including Mining, Smelt metal, Building materials, Public road ,Railway, Water conservation ,Chemical industry and so on .
Features and fuctions of Jaw Crusher:
1: The cavity of crusher is deep and no dead area, so it prompts the feeding capacity and output.
2: The size of the reduction ratio is big and the production size is even.
3: Adjustment device of the spacer style discharge mouth is convenient and reliable. And it¡¯s adjustment range is big what improves the flexibility of equipment.
4: Lubrication system is safe and reliable. Unit replacement is convenient. And the work of maintenance is small.
5:Its structure is simple and operation is reliable. The operation charge is low.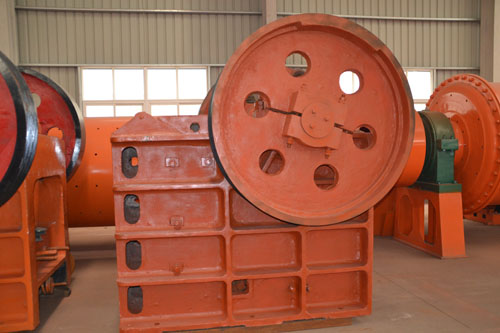 6:Energy conservation : single machine¡¯s energy conservation 15%-30% and the machine system energy conservation is more than twice of the single machine.
7:The adjustment range of the outlet is big, so it can satisfy the requirement of different customers.
8: The noise is low and dust is little when Jaw Crusher works.
Working principle of Jaw Crusher:
The main structure of the Jaw Crusher are composed of stander, eccentric shaft, belt pulley, flywheel, movable jaw plate, wrist plate ,adjustable gap screw, offsetting spring, fixed jaw plate. The wrist plate also has the effect of guarding.
This Jaw Crusher¡¯s crushing style is the type of driving extrusion. The motor drives the belt and belt pulley to make the moveable jaw move through the eccentric shaft. When movable jaw is rising ,the included angle between the wrist plate and movable jaw become bigger to drive the movable plate to be close to the movable plate. At the same time the material is squeezed and rubbed, rolled to achieve multiple crushing;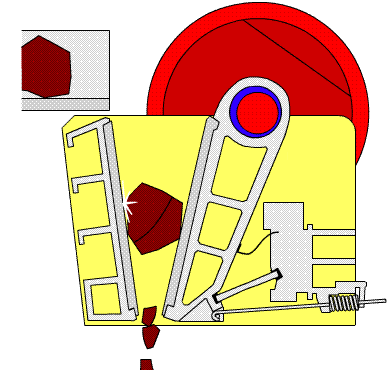 When movable jaw is descending, the included angle between the wrist plate and movable jaw becomes smaller. Now the crushed material is discharged from the crushing cavity, with the continuous rotation of the motor, the movable jaw crushing and discharging the material periodically to realize batch production.
Main technical parameters of Jaw Crusher:
Models

Technical specification

Motor power

(kw)

Dimensions

(mm)

Weight

(kg)

Max feeding size

(mm)

adjustment

scopes

(mm)

Capacity

(m3/h)

Rotating speed of main shaft

(r/min)

PEF150*250

125

10-40

1-3

285

7.5

922*745*933

700

PEF200*300

165

20-70

2-8

265

11

1056*1100*1120

800

PEF250*400

210

20-80

5-20

310

18.5

1108*1142*1392

3000

PEF400*600

340

40-90

10-40

275

30

1700*1732*1392

7200

PEF350*750

290

30-55

20-50

300

37

1900*1806*1808

8900

PEF500*750

425

50-100

34-68

275

55

2050*1860*2145

11320

PEF600*900

480

75-200

40-120

255

75

2792*2168*2250

17600

PEF750*1060

630

80-200

80-160

250

90

4180*2560*3070

30530

PEF900*1200

750

100-200

110-200

250

110

5200*2900*3500

50000

PEF1200*1500

1020

150-300

220-400

180

160

4200*3300*3500

106000

PEX150*750

125

10-40

5-15

300

15

1220*1480*1180

3600

PEX250*1000

210

15-55

10-32

300

37

1580*1992*1380

7350

PEX250*1200

210

15-60

12-38

300

37

1530*2192*1380

8700

PEX300*1300

250

20-90

16-65

300

55

1930*2400*1747

11600