Our Dong Fang brand vertical dryer is the drying equipment of new generation For mineral particles. Adopt low temperature the ,large amount of wind and gravity principle ,the efficiency of the drying and comprehensive performance of the dryer can be greatly improved. Its characteristics are small area occupied, low construction costs; very little maintenance cost as body do not have moving parts; high drying efficiency, low production costs and durable performance.
A vertical dryer Features:
Vertical industrial coal briquette dryer, also known as vertical dryer, do not produced based on traditional dryer. Faced on the common situation that the large investment,large area occupied and high fault rate in coal briquette fields, Adopt low temperature the ,large amount of wind and gravity principle, after several years of research and design, industrial test, product upgrading, we have successfully developed this product.it is a ideal drying equipment for coal briquette fields as its reflects the applicable innovation, expand the performance and reduce costs, improve quality, Production safety and environmental protection.
Second, the vertical dryer work process and features: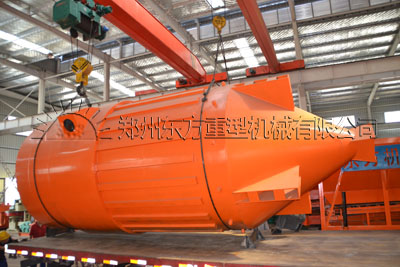 After forming the "water ball" transported by belt conveyor to the furnace top, evenly distributed by the fabric devices to total cross section of the roof, the coal Briquette slow down at one side of its orbit by gravity the other make heat exchange with the strong winds. The moisture evaporated from coal briquette random away by strong winds. Coal Briquette will fully drying in the evaporation process in two hours time. Economic characteristics: compared with today's common flow back dryer, the investment is reduced by 1/2; covers an area of ​​its 1/5-1/3; Significantly reduced energy consumption and operating costs. Operation characteristic: This product is good technology match, easy connected with other device in production line, easy to operate and simple maintenance. The body of the dryer do not have moving parts, thus do not need normal maintenance, high efficiency and large output. Its achieved good results when drying coal stick in a large fertilizer factory, save a lot of manpower, reduced the labor intensity; saved the factory site and expanded production.
Three ,vertical dryer quality characteristics:
The water content usually is12-14%. When powder coal pressed by forming machine, after drying, the moisture reduced to 2-4%, which can meet the strength and storage requirements. On this basis, after adaptive transformation, the water content can be reduced to less than 1.5%. Also this dryer can dry pellets, coal rods and other particulate matter.
Main technical parameters of vertical dryer:
| | | |
| --- | --- | --- |
| Item | Capacity(T/H) | Power(KW) |
| 1800 | 5 | 22 |
| 2800 | 10 | 30 |
| 3200 | 20 | 37 |