Also called counter-counter-Efficient Sand play sand, which is referred to as the fifth generation Sand, I set the company years of production crusher, sand making experience, combined with the advantages of equipment at home and abroad to design a set systemsand, sand in one versatile new Sand.
Impact cavity, as well as the device structure design principles the coarse crushing chamber by a stone hit stone crushing cavity wedge adjustable counterattack plate and circular plate consisting of three discharge channel. Has the following characteristics: discharge size can be arbitrarily adjusted, the adjustment plate two upside down, life expectancy, easier to adjust, no card, no blocking, good concessions, higher security. The hammer can be surrounded by high utilization, wasting. Unique regulatory function counterattack plate and sieve regulation more effective, convenient, and thus can control the material feed size, so that the required material size of up to 95% or more, to achieve the ideal material particle size control, grading. Successful development of multifunction adjustable Impact Crusher, completely changed the crushing and sand making industry long-term difficulties rope manufactured goods granularity, grain shape, not specifications to address the crushing, sand making equipment hammer wear adjustment and maintenance difficulties, resulting in the high cost of production defects. Greatly improved adjustable multi-function Impact Crusher production, reduce energy consumption, so the production quality of the final products meet or exceed national standards. Multifunction adjustable counter-the sand making since the market has changed the sand making industry "iron for sand Guaixiang, reversing a the sand making enterprise meager profit or loss situation, has been highly praised for manufacturers to use. Called "fifth-generation sand making industry. This new fine crusher has been favorable for the market, has become crushing, sand making the industry preferred crusher equipment.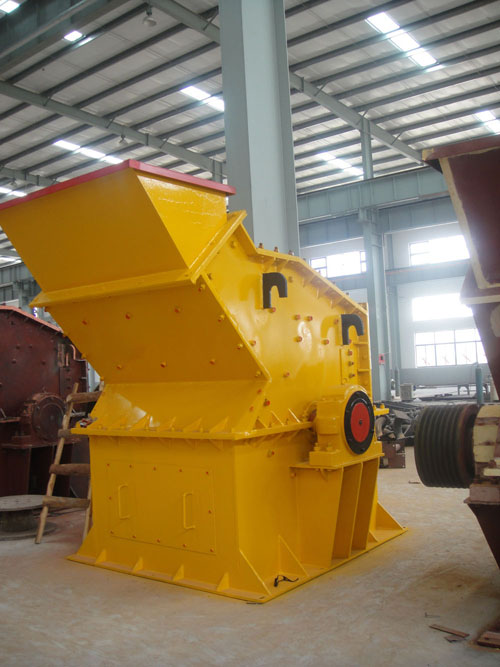 Counter efficient Sand works
Counterattack efficient sand making machine, broken pulley driven by the motor spindle rotation, the spindle rapidly rotating hammer and material collision materials crushed.
Main technical parameters of Counterattack efficient sand making machine:
Models
Speed£®r/min)
The number of hammer
diameter(mm)
length(mm)
Feed size(mm)
discharging granularity(mm)
Motor Power(kw)
Capacity(t/h)
Dimensions(m)
900*400
960
9
900
470
°‹ 80
3
45
25-35
2.1
*1.4*1.7
900*400
960
6
940
470
°‹ 150
3
45
30-40
2.1
*1.4*1.7
900*600
960
15
900
670
°‹ 80
3
75
40-50
2.1
*1.62*1.7
900*600
960
9
940
670
°‹ 150
3
75
45-50
2.1
*1.62*1.7
900*800
960
18
900
880
°‹ 120
3
90
50-70
2.1
*1.84*1.96
940*800
960
12
940
880
°‹ 150
3
90
60-75
2.1
*1.84*1.96
1100*1000
735
21
1100
1000
°‹ 200
3-5
132
70-100
2.45
*1.6*1.96
1300*1000
620
24
1300
1000
°‹ 200
3-10
200
120-150
3.0
*2.16*2.5
1300*1300
620
30
1300
1300
°‹ 200
3-10
250
160-200
3.0
*2.36*2.55