1. Dongfang Ring Die Feed Pellet machine Introduction
Ring die pellet mill is an ideal pelletizing machine for high quality feed pellets. Before pelletizing, grains such as corn, wheat, rice and soybean etc. need to be crushed into powder. Also they should be mixed throughly with a mixer since other additives may be added to ensure a balanced feed formulation. The finished feed pellets have a smooth surface and easy to digest for animals. Therefore ring die feed pellet mill is widely adopted by livestock farm, poultry farm, feed processing industry and aquaculture.
2. Different Requirements for Animal Feed Pellets
Different animals have special requirements of pellets, we have several types of ring die pellet mills which can respectively produce livestock feed pellets, poultry feed pellets, aquatic feed pellets, etc.
a. For pig, the pellet diameter is usually ø3.5-6.5mm.
b. For cattle, the pellet diameter is usually ø4.5-8mm.
c. For chicken, pellet diameter is usually ø3.2mm.
d. For fish, pellet diameter is usuallyø2.0, ø2.5, ø3.0mm.
e. For shrimps, pellet diameter is usually ø1.0-ø3.5mm.
3. Dongfang Ring Die Feed Pellet Mill Features
a. Adopt aerodynamic technology, reducing the temperature in pelletizing chamber to
around 90¡ãC, therefore the machine can work well continuously.
b. Using spheroidal graphite cast iron, the machine body is more durable.
c. Treated by hardness quenching and milling machine,the gears maintain high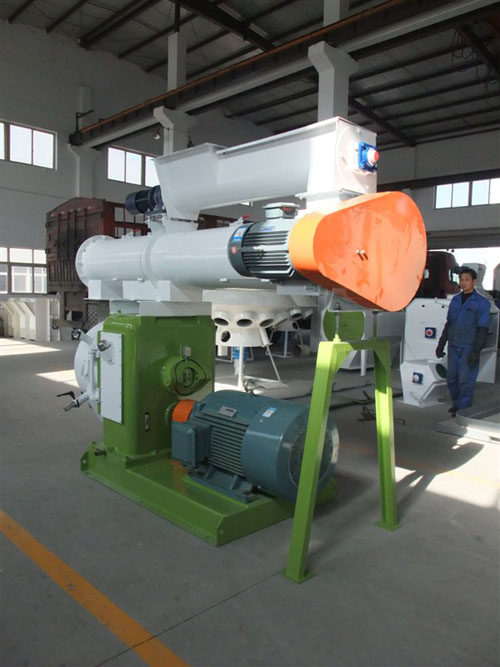 concentricity with the shaft, Thus ensuring a good performance and large capacity than belt driven models.
d. With lubrication system, you can add grease to main shaft without having to turn off the machine .
e. The ring die mould are cast by heat processing technology, thus having a durable life and producing qualified pellets.
f.Equipped with an advanced compensation serpentine-spring coupling which connects the pelletizing chambert with the motor to increase safety and stability.
g. Permanent magnet device can remove impurities in the pelletizing process.
h. Multi-layer conditioners can be installed to improve quality of aquatic feed pellets.
4. Unique Characters of Dongfang Ring Die Pellet Mill for Making Feed Pellets
a. Unlike materials that are used to make wood pellets, grains for making feed pellets can get into the pellet machine just through gravity, thus imperative feeding device is not necessary.
b. During the pelletizing process, steam should be added through the steam pipe . The steam can accelerate the ripening of materials and the finished pellets are easy to digest for animals.
c. Multi-layers can be mounted to produce certain high-grade feedstuff pellets.
Feed pellet machine Parameter list:
MODEL

DFKL320

DFKL350

DFKL420

DFKL508

DFKL600

CAPACITY(T/H)

Feed

1-2

3-5

8-11

15-18

20-25

biomass

0.2-0.4

0.5-0.8

0.8-1.3

1.2-2.0

3-3.5

Main power(KW)

37kw

55

90

110

160

Power of Modulator(KW)

1.5

1.5

2.2

2.2

3

PELLET SIZE(MM)

¦µ1.2-18

¦µ1.2-18

¦µ1.2-18

¦µ1.2-18

¦µ1.2-18

POWER OF FEEDER(KW)

0.75

0.75

1.5

2.2

2.2

FOB Qingdao USD: Trader price

9673

12275

22350

34822

55790

Spare parts: 2 rollers and 1 mould

790+85*2

880+95*2

1050+110*2

1120+130*2

1350+150*2

Dimension(mm)

1850x820

x1300

2200x900

x1500

2800x1100

x1700

3200x1300

x1900

3500x1500

x2800