Efficient also called sand washer (sand washing machine) the introduction of similar foreign products Zhengzhou Dong Fang Heavy Machinery Co., Ltd. improve their predecessors technology introduced with the international advanced level gravel and slag particles washing equipment. Sand washing machine materials widely used in gravel pits, mining, building materials, transportation, chemical industry, water conservancy and hydropower, concrete mixing stations and other industries washing, grading and dehydration. I produced sand washing machine with the sand making sand making use of a washing-essential equipment, it can wash away the sand making sand mixed system traces of powder and impurities, thereby improving the quality of sand. Efficient sand washing machine wash height, reasonable structure, large output, less sand loss sand washing process, especially its transmission part isolated from water, sand, and therefore the failure rate is much lower than the commonly used sand washing machine sand washing machine is the best choice for the upgrading of domestic sand washing industry.
Efficient sand washing machine motor through V-belt, reducer, gear reducer drive the impeller slowly rotating, sand and gravel into the wash tank feeding trough in impeller driven rolling and grinding each other to remove the covering of gravel surface impurities, while destroying the vapor layer of the coated grit to facilitate dehydration; while adding water to form a strong flow of water, in a timely manner the impurities and a small proportion of foreign body away, and wash tank is discharged from the overflow port, to complete the cleaning action. The clean gravel away by the blades, the gravel from the rotation of the impeller was poured into the chute, the completion of the cleaning action of the sand.
Efficient washing the sand machine's characteristics:
1.Wheel bucket sand washing machine of simple structure, the impeller drive bearing device with water and water material isolation to avoid bearing sand and pollutants cause damage due to flooding, the phenomenon occurred.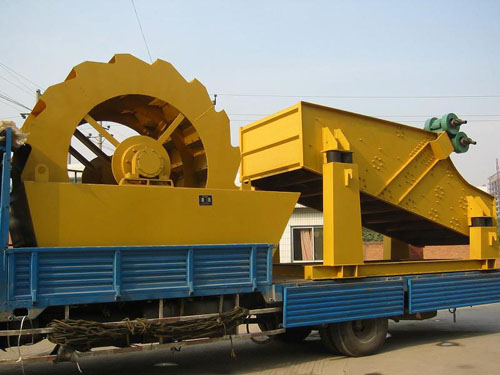 2 be compared with the traditional spiral sand washing machine sand washer (sand washing machine) wash sand for gravel pits significant upper hand as follows:
a. minimal loss of fine sand and stone powder, washed building sand gradation and fineness modulus reached national building sand building pebbles, gravel "scale.
b.bucket wheel sand washing machine in addition to mesh almost no wearing parts.
c.long life, long-term without maintenance.
Wash sand machine structure fair, convenient maintenance, large capacity, the power consumption is small, clean and high. Novel sealing structure, the full blockade of the oil bath type transmission apparatus, the adjustable overflow weir plate, to ensure that this series of products is efficient, durable, and cleaning, good dewatering effect, fine-grained products remain not arbitrary characteristics.
Efficient washing the sand machine's structure:
Sand washing machine is an important part of the gear, speed reducer, stent, settling tank, impellers, pulleys, motors, etc.

Main technical parameters of high effect sand washing :
| | | | | |
| --- | --- | --- | --- | --- |
| Models | Capacity(t/h) | Dimensions(t/h) | Power(kw) | Weight(kg) |
| GX2000 | 8-40 | 3-8 | 4 | 1900 |
| GX2600 | 20-100 | 5-15 | 5.5 | 3500 |
| GX2800 | 50-130 | 8-70 | 7.5 | 5100 |
| GX3200 | 240-300 | 80-130 | 11 | 8800 |
| GX3600 | 280-500 | 100-200 | 15 | 14200 |