Impact sand making machine used in various ores, cement, refractories, aluminum where the soil clinker, emery, glass raw materials, mechanism building sand, stone and various metallurgical slag and other industries, the impact sand making machine is a high-energy and low consumption sand making machine with the international advanced level, its performance plays an irreplaceable role in the various ore fine crushing equipment crushing plant is currently the most effective, practical and reliable.
Engineering mechanisms sand, cushion material, asphalt concrete and cement concrete aggregate ideal production equipment.
In the mining industry, widely used in grinding the preceding process, it can produce large amounts of iron ore fines, reducing the high cost of grinding load.
Impact sand making excellent low wear characteristics of the equipment used for high abrasive and secondary disintegration crushing production. In addition, due to the zero pollution, impact sand making well adapted to the production of glass quartz sand and other high purity materials ,10-500t / h production capacity range of impact Sand almost meet any production requirements.
Working Features of Impact Sand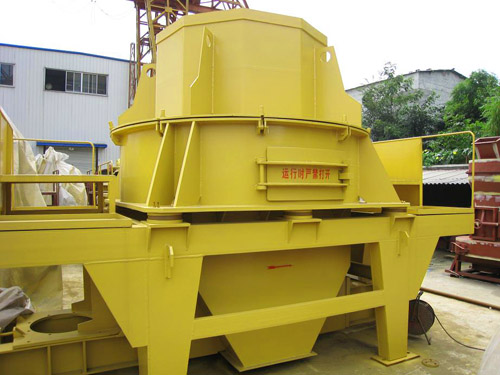 Material from the feed hopper into the impact sand making machine, the material is divided into two parts by the sub-feeder, and in part by the middle of the sub-feeder into the high-speed rotation of the impeller, the impeller being rapidly accelerated acceleration of up to several hundred times gravity acceleration, speed of 60-70 m / s from the impeller three runner uniform projectile out, first of all with broken by the impact of the part of the sub-feeder four weeks since the closing falling materials, and with the impact to the vortex cavity material lining layer material lining rebound oblique impact to the top of the whirl chamber, but also to change its direction of motion, deflected downward movement of material emitted from the impeller form a continuous materials curtain. Such a material in the the whirl crushing cavity by twice as well as several times the probability of impact, friction and grinding crushing effect. The broken material is discharged from the lower part of the discharge opening. Material mutual self-impact crusher in the entire crushing process, not in direct contact with the metal components, but with the lining materials shock, friction and grinding, which reduces pollution angle, to extend the time of mechanical wear. Self-loop, the the whirl chamber internal clever airflow eliminates dust pollution.
Main techincal parameters of Vibrating Screen:
| | | | | | | |
| --- | --- | --- | --- | --- | --- | --- |
| | Max feeding size(mm) | power(Kw) | Speed of Impeller(r/min) | Capacity(t/h) | Size(mm) | Weight(includingelectric machine)(Kg) |
| PCL-600 | 35 | 22-55 | 2000/3000 | 12-30 | 2500*§¶1600*2260 | 5600 |
| PCL-750 | 45 | 45-90 | 1500/2500 | 25-55 | 2780*§¶1800*2700 | 7300 |
| PCL-900 | 50 | 90-180 | 1200/2000 | 55-100 | 3900*§¶2160*2770 | 12100 |
| PCL-1050 | 60 | 150-264 | 1000/1700 | 100-160 | 4660*§¶2450*3660 | 16900 |
| PCL-1250 | 60 | 264-440 | 850/1450 | 160-300 | 5600*§¶2950*4000 | 22000 |
| PCL-1350 | 60 | 320-440 | 800-1193 | 200-360 | 5340*§¶2940*3650 | 26000 |