Technical solution For 120-200T/H Stone crusher production line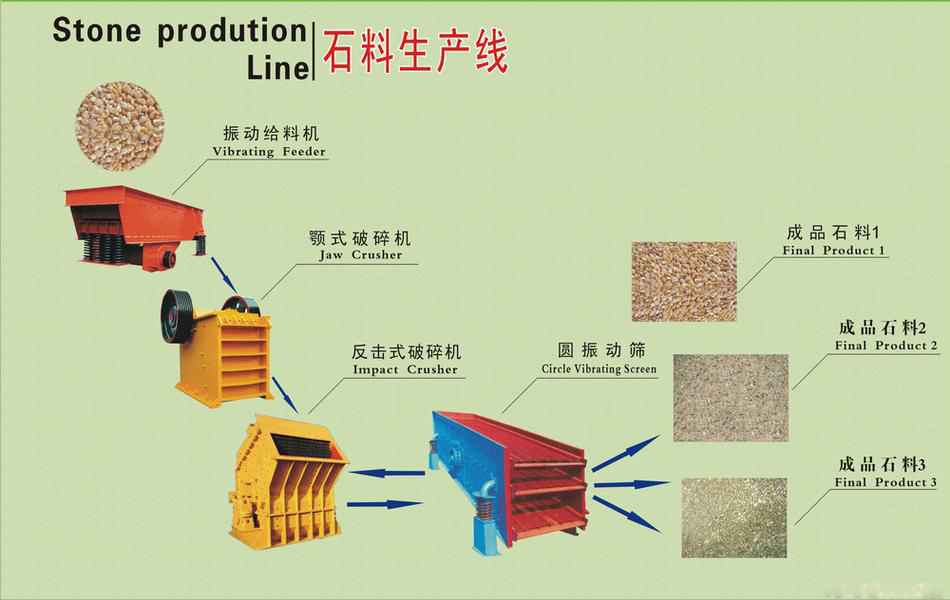 The whole production line consists of vibrating feeder, jaw crusher, impact crusher, vibrating screen, belt conveyor, electric control cabinet , etc. We design different production lines ranging 50 t/h to 500 t/h by combining different models of equipment which can match cone crusher, dust filter, etc. If necessary to cater different customers¡¯ technological requirements. It is widely used for crushing hard limestone, granite, basalt, gravel, metallurgic slag, etc. Or artificial sand making for hydroelectric power, building material, high way, city construction, etc. Different models of machines are combined to meet different customers' different demands according to different craft requirements.
Work principle:
Big size stones are transferred to primary crusher through vibrating feeder from hopper for first crushing, then the crushed materials are transferred to impact crusher through belt conveyor for secondary crushing. The materials crushed will be transferred to the vibrating screen, and separated to different sizes. The aggregate with suitable size will be transferred to the final product pile and aggregate with unsuitable size will be transferred to the impact crusher for re-crushing. This forms a closed and manifold cycles. The sizes of final products will be graded and separated according to customers' requirements, and the duster will be attached for the sake of environment protection.
Capacity: 120-200t/h
The mainly device of this Crushing & Screening production line including Vibrating Feeder(GZD1100*4200),Jaw crusher(PE750*1060),Cone crusher(HPC220)/Impact crusher(PF1315),three sets vibrating screen (3YZS2160),Belt conveyor,electronic control system.
This Crushing & Screening Solution is widely used in the crushing granite, basalt, river stone, andesine, Iron ore, manganese ore and other hard material.
If you want to get more information about our product , feel free to send us email , you will get prompt reply. thanks.