Cement manufacturing consists of raw material grinding, blending, pre-calcining, clinker burning and cement grinding. In short, limestone and other materials containing calcium, silicon, aluminum and iron oxides are crushed and milled into a raw meal. This raw meal is blended and then heated in the pre-heating system(cyclones) to start the dissociation of calcium carbonate to oxide. The meal goes further into the kiln for heating and reaction between calcium oxide and other elements to form calcium silicates and aluminates at t a temperature up to 1450 centidegree: so called clinker burning. The cyclone system is attached to the rotary kiln by a riser duct. Secondary fuel is fed to the riser duct, the main fuel mixture, coal/petcock, fires the kiln. Reaction products leave the kiln as a nodular material called clinker. The clinker will be interground with gypsum and other materials to cement.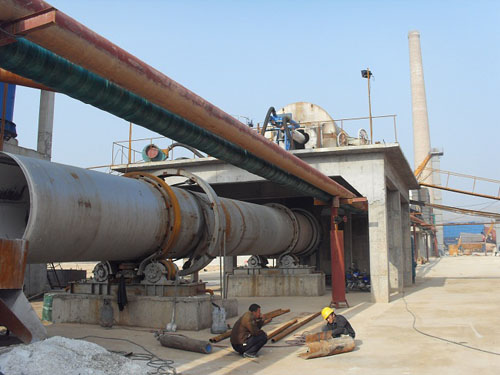 The equipments we use in this whole production line are vibrating feeder, jaw crusher, impact crusher, cement ball mill, lifer, preheating system, cement rotary kiln and packing machine and so on. All the necessary equipments in this line can be provided by our factory. We have cement production line experts to design specific solutions for your preference.
After shipping the equipments to destination, if you need help in the installation of all the equipments, we can send our engineers to help settle the whole line!