Ball mill is the key equipment for grinding after the crush process, and it is widely used in the manufacture industries, such as cement, silicate, new building material, refractory material, fertilizer, ferrous metal, nonferrous metal and glass ceramics, and ball mill also can be used for the dry and wet grinding for all kinds of ores and other grind-able materials.
Ball mill Structure: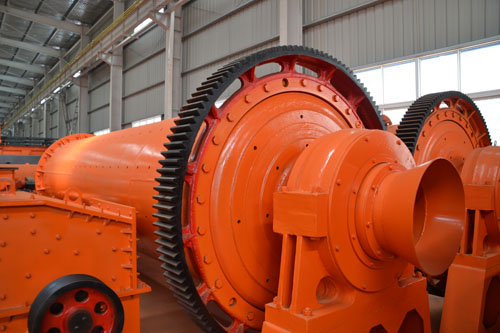 Ball mill is mainly composed of feeding section, discharging section, rotating section, driving section ( reducer, pinion, motor, electric control ) , etc. Quill shaft is made of carbon steel, with replaceable inner lining. Rotary gearwheel is processed with gear hobbing, with wearable linning plate in the shell to guarantee nice wear resistance. The machine runs stable in available working status.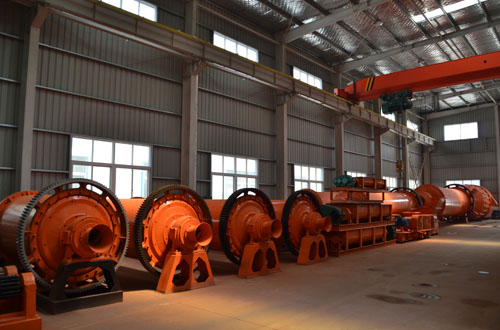 Main technical parameters of ball mill:
| | | | | | | | |
| --- | --- | --- | --- | --- | --- | --- | --- |
| Model | Shell rotation speed (r/min) | Ball load (t) | Feeding size (mm) | Discharging size (mm) | Capacity (t/h) | Power (kw) | Weight (t) |
| ø900*1800 | 36-38 | 1.5 | <=20 | 0.075-0.89 | 0.65-2 | 18.5 | 4.6 |
| ø900*3000 | 36 | 2.7 | <=20 | 0.075-0.89 | 1.1-3.5 | 22 | 5.6 |
| ø1200*2400 | 36 | 3 | <=25 | 0.075-0.6 | 1.5-4.8 | 30 | 12 |
| ø1200*3000 | 36 | 3.5 | <=25 | 0.074-0.4 | 1.6-5 | 37 | 12.8 |
| ø1200*4500 | 32.4 | 5 | <=25 | 0.074-0.4 | 1.6-5.8 | 55 | 13.8 |
| ø1500*3000 | 29.7 | 7.5 | <=25 | 0.074-0.4 | 2-5 | 75 | 15.6 |
| ø1500*4500 | 27 | 11 | <=25 | 0.074-0.4 | 3-6 | 90 | 21 |
| ø1500*5700 | 28 | 12 | <=25 | 0.074-0.4 | 3.5-6 | 130 | 24.7 |
| ø1830*3000 | 25.4 | 11 | <=25 | 0.074-0.4 | 4-10 | 130 | 28 |
| ø1830*4500 | 25.4 | 15 | <=25 | 0.074-0.4 | 4.5-12 | 155 | 32 |
| ø1830*6400 | 24.1 | 21 | <=25 | 0.074-0.4 | 6.5-15 | 210 | 34 |
| ø1830*7000 | 24.1 | 23 | <=25 | 0.074-0.4 | 7.5-17 | 245 | 36 |
| ø2100*3000 | 23.7 | 15 | <=25 | 0.074-0.4 | 6.5-36 | 210 | 34 |
| ø2100*4500 | 23.7 | 24 | <=25 | 0.074-0.4 | 8-43 | 245 | 42 |
| ø2100*7000 | 23.7 | 26 | <=25 | 0.074-0.4 | 8-48 | 280 | 50 |
| ø2200*4500 | 21.5 | 27 | <=25 | 0.074-0.4 | 9-45 | 280 | 48.5 |
| ø2200*6500 | 21.7 | 35 | <=25 | 0.074-0.4 | 14-26 | 370 | 52.8 |
| ø2200*7000 | 21.7 | 35 | <=25 | 0.074-0.4 | 15-28 | 380 | 54 |
| ø2200*7500 | 21.7 | 35 | <=25 | 0.074-0.4 | 15-30 | 380 | 56 |
| ø2400*4500 | 21 | 30 | <=25 | 0.074-0.4 | 8.5-60 | 320 | 65 |
| ø2700*4000 | 20.7 | 40 | <=25 | 0.074-0.4 | 12-80 | 400 | 94 |
| ø2700*4500 | 20.7 | 48 | <=25 | 0.074-0.4 | 12-90 | 430 | 102 |
| ø3200*4500 | 18 | 65 | <=25 | 0.074-0.4 | Upon the process | 800 | 137 |