Bucket elevator is a lifting equipment discharging the materials by gravity. It is suitable for the vertical conveying of powder, granular, small block, abrasive or non-abrasive materials, such as raw materials, cement, coal, limestone, dry clay, clinker and so on.
Bucket elevator feature:
a) Tightness and less environmental pollution
b) Easy for Operation, maintenance, less wearing parts. The chains are bush roller chain,discharge by gravity, suitable for the vertical lifting of various powder and lumps materials.
c) Due to less energy and maintenance, the costof usage is low
d)Reliable, advanced design principles to ensure the reliability of machine operation, good seal. less environmental pollution.
e) High accuracy. After folding and intermediate casing beading then welding. Rigid. Outward appearance looks beautiful.
f) Small size for Machinery, Compared to other kinds of elevator which can raise the same volum, NE elevator is more smaller.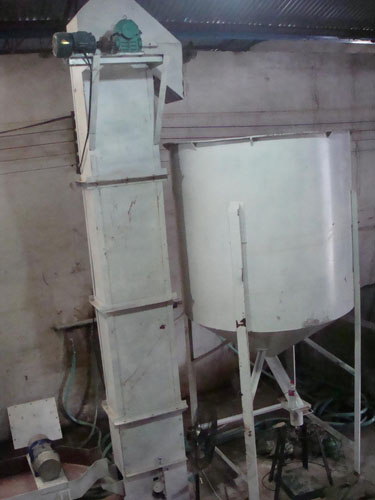 g) Transmission capacity is large, the series have a various specifications of NE15 ~ NE800. The range of Enhance Capacity is 15 ~ 800m3 / h.
For the bush roller chain conveyor, induction of gravity discharge, for a variety of powder, bulk material to enhance the vertical grain.
Main techncial parameters of bucket elevator:
| | | | | |
| --- | --- | --- | --- | --- |
| Mode | Max. lifting height(m) | Capacity(m3/h) | Bucket pitch(mm) | Power(kw) |
| 160 type | 28 | 3-8 | 500 | 3-7.5 |
| 200 type | 31.5 | 6-15 | 500 | 3-7.5 |
| 250 type | 30.16 | 10-25 | 500 | 4-11 |
| 300 type | 30.16 | 15-35 | 500 | 5.5-15 |
| 350 type | 31 | 19-40 | 600 | 7.5-18.5 |
| 400 type | 32 | 35-50 | 600 | 7.5-22 |
| 450 type | 32.7 | 42-60 | 600 | 7.5-22 |