Flotation machine is widely applicable for coarese separation, fine separator and reverse flotation of nonferrous metals like copper, lead, zinc,nickel and molybdenum as well as ferrous metal and non-metallic minerals.
Flotation machine working principle:
When flotation machine works, slurry is inhaled from the bottom of the trough to the space between impellers. Meanwhile, the low_pressure air send by fan is sent to this area through the air distributor in the hollow shaft. After sufficient mixing, the slurry is pushed out by the impeller, and then goes to the whole trough. When the froth rises to the stable level, after the enrichment processing, froth overflows to the froth trough from the overflow weir. Another part of ore slurry flows to lower part of impeller for the re_mis with air. The remained slurry flows to the next trough until becomes residue.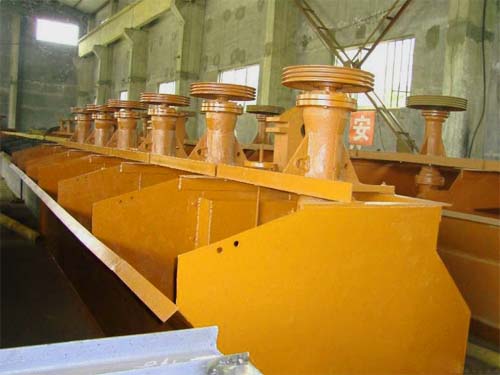 Main Technical Parameters of Flotation Machine:
Model

Valid volume

m3/slot

Impeller diameter

(mm)

Capacity

(m3/min)

Impeller rotation speed

(r/min)

Scraper rotation speed

(r/min)

Motor

Dimension

4-slot machine

(mm)

Weight

t/slot

Model

Power

(kw)

XJK-0.13

0.13

200

0.05-0.16

600

17.5

Y90L-4

1.5

2100\865\900

0.35

XJK-0.23

0.23

250

0.12-0.28

500

17.5

Y90L-4

1.5

2625\1130\1290

0.41

XJK-0.35

0.35

300

0.15-0.5

470

17.5

Y100L1-4

2.2

3012\1350\1320

0.45

XJK-0.62

0.62

350

0.3-0.9

400

16

Y100L2-4

3

3800\1500\1550

0.85

XJK-1.1

1.1

500

0.6-1. 6

330

26

Y132M-6

5.5

4680\1820\1950

1.4

XJK-2.8

2.8

600

1.5-3.5

280

26

Y160L-6

11

7750\2600\2700

2.43
SF flotation machine
Compared with common flotation machine, this SF flotation machine has the following advantages:
Improve grade 4-6%;
Improve recovery rate 8%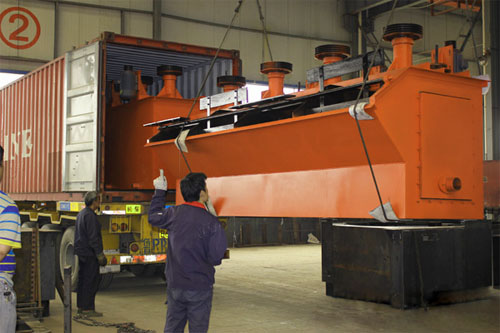 Improve capacity 12%
Main Technical Parameters of SF Flotation Machine:
Model

SF0.37

SF0.7

SF1.2

SF2.8

SF4

SF8

Slot volume(m3)

0.37

0.7

1.2

2.8

4

8

Impeller diameter

(mm)

300

350

450

550

650

760

Capacity(m3/min)

0.2-0.4

0.3-0.9

0.6-1.2

1.5-3.5

0.5-4

4-8

Impeller rotation speed(r/min)

352

400

312

268

238

191

Motor

Model

(1)Y90L-4

(1)Y100L2-4

(1)Y132M2-6

(1)Y160L-6

(1)Y180L-6

(1)Y250M-8

(2)Y90S-4

(2)Y90S-4

(2)Y90S-4

(2)Y90S-4

(2)Y90L-4

(2)Y100L-6

Power

(kw)

(1)1.5

(1)3

(1)5.5

(1)11

(1)15

(1)30

(2)1.1

(2)1.1

(2)1.1

(2)1.1

(2)1.5

(2)1.5

Dimension(mm)

700x700x750

900x820x950

1100x1100x1100

1700x1600x1150

1850x2050x1200

2200x2900x1400

Single slot weight(kg)

468

600

1373

2338

2660

4130