The Magnetic Separator is suitable for wet magnetic separation of materials less than 3mm such as magnetite, calcined ore, etc. and it can remove the iron in the coal, non-metal and construction industries.
Magnetic separator structure:
Its magnetic system is a ring-shape chain closed magnetic circuit with energizing coils made of copper tube and cooled internally by water. Grooved plates made of magnetic conductive stainless steel are used as magnetic matrix. It possesses the following advantages: short magnetic circuit, little magnetic flux leakage, high magnetic intensity, low energy consumption, fine beneficiating results, simple structure and easy to maintain.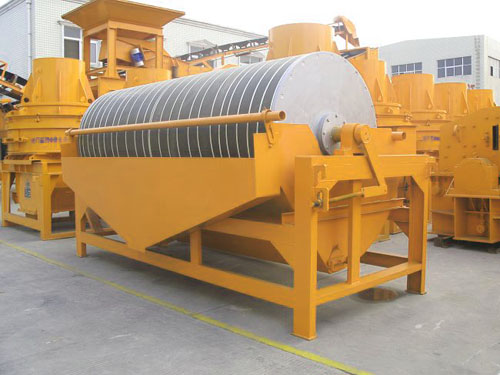 Magnetic separator working principle:
When slurry flows into trough across ore-feeding tank, loose ore particles enter then trough¡¯s ore-feeding zone under waterflow of ore-feeding hosepipe. Upon magnetic field effect, magnetic particles get together and form into " magnetic mass" or " magnetic linkage", which is absorbed to the cylinder under magnetic forece when it moves toward magnetic pole. Because the polarity of magnetic pole is alternatedly disposed along the cylinder¡¯s rotation direction and remains unchanged at work, gangue and other non-magnetic minerals among " magnetic mass" or " magnetic linkage" fall off when the cylinder rotates.Then the " magnetic mass" or " magnetic linkage" absorbed to the cylinder surface comes out as ore concentrate. Then the ore concentrate is unloaded into concentrate trough under under waterflow of ore-unloading hosepipe, when it moves to the marginal magnetic system with lowest magnetic force along the cylinder rotation. And non-magnetic or weak magnetic minerals left in the slurry is discharged out of trough, which is called gangue.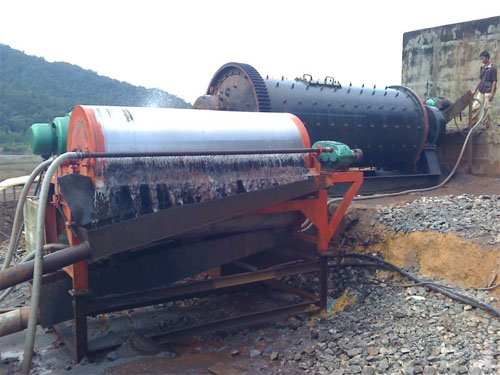 Main Technical Parameters of Magnetic Separator:
Model

Magnetic intensity

(oe)

Productivity

(t/h)

Motor power

(kw)

Weight

(kg)

CTB600*1200

1450

8-15

1.5

910

CTB600*1800

1500

15-25

2.2

1340

CTB750*1800

1550

30-45

3

2050

CTB900*1800

1650

35-60

4

3000

CTB1050*2400

1650

60-95

5.5

5020

CTB1200*3000

1650

80-150

7.5

7800

CTB1500*3000

1650

120-200

11

9600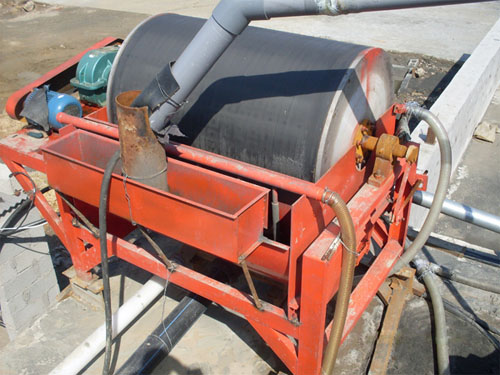 Main Technical Parameters of Wet Magnetic Separator:
Basic data

Model

GYC-60B

GYC-60B-I

GYC-2��60

GYC-3��60

GYC-3��80

GYC-4��80

Cylinder diameter��length MM

ø320��600

ø320��600

ø320��600

ø320��600

ø404��800

ø404��800

Max. magnetic induction

3500

1100

3500

110-3000-3500

110-3000-3500

110-3000-5000

Cylinder quantity

1

1

2

3

3

4

Cylinder rotation speed r/min

66.47.33

66.47.33

66.47.33

34.5-172

54.5-172

54.5-172

Sorting size mm

0.05-25

0.063-25

0.05-25

0-8

0-8

0-8

Motor model

Y801-4

Y801-4

Y801-4

ZBW-1.5

ZBW-1.5

ZBW-1.5

Power (kw)

0.75

0.75

0.75

1.1

1.5

2.2

Productivity(t/h)

0.5-2.5

0.1-3

0.5-2.5

0.8-2.5

1.5-2.5

1.5-2.5

Weight (t)

0.25

0.65

0.5

1.2

1.5

2.4

Remark

Fine selection

Coarse selection

Fine selection

With vibrating feeder

With vibrating feeder

Fine selection