Cutting machine is the main equipment for Autoclave Aerated Concrete(AAC) productes, it`s necessary core equipments for capacity more than 50000m³/year, it is also necessary to increase the AAC capacity.
Cutting machine working pinciple:
Upset hoist bring mould base body sky 90 of upset is it cut car to put together, drawing of patterns is it at cutting car , cut base body with side board car power by electrical machinery and walk to stay, finish cuts vertically , mills the trough , level to cutting through cutting the device vertically; Cut the car and continue walking after the central position of the crosscut device stops, the crosscut device is started, crosscut shelf from top to bottom vertical to is it is it finish horizontal to cut to cut to lay; Cut car walk to organize into groups hoist place organize into groups hoist hang to is it raise car to steam base body (incline board in succession ) again, cut car return to primitive position carry on next to cut circulation.
Cutting machine Features: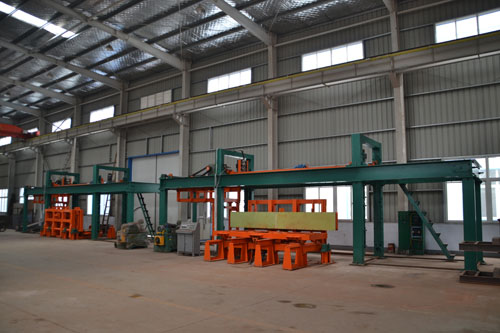 1. The machine structure is simple and practical, maintenance is easy;
2. The green cake is sideward, so the width of the whole green cake is 600mm, and the height is 1200mm. Steel wires for cutting is short, which is also difficult to rupture and float. It is high in cutting precision;
3. The vertical cutting device is fixed. Crosscut device cuts the green cake vertically by steel wires. It shortens the cutting steel wires length, guarantee precision of cutting;
4. This machine cuts the green cake in Hexahedron-type, so the products quality wont be influenced by the distortion of the mould;
5.Copies of model make to base body six cut , products quality does not out of shape to influence mould mould oil have;
6.A model can also produce the panel besides producing the building block;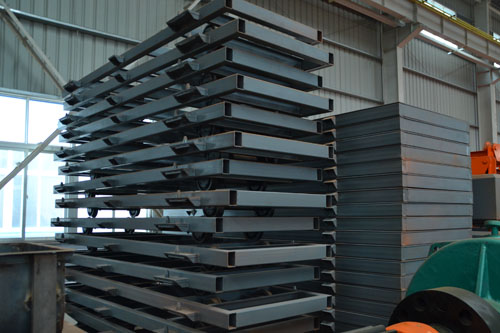 7.Model cut course (upset , vertical cut , crosscut ) is it finish with the Engineer location to divide, every engineering location work simplification, operate and maintain it conveniently.
Main technical parameters of Cutting machine:
NO.
Size
Rough Before Cutting(mm)
Cutting Cycle
Cutting Ability (m3/year)
Cutting Precision (mm)
Total Power (kw)
Dimension (mm)
1
4m
4050
¡Á1240¡Á650
6min/Block
Above 100,000
Six-side Cutting<¡À2
34
13800
¡Á4200¡Á5600
2
4.2m
4250 ¡Á1240¡Á650
6min/Block
Above 200,000
Six-side Cutting<¡À2
34
13800
¡Á4950¡Á5870
3
6m
6050 ¡Á1540¡Á650
6min/Block
Above 200,000
Six-side Cutting<¡À2
37
17500
¡Á4600¡Á6000