The drum screen mainly consist of motor,reducer,drum units,racks,ring of clamp,black block gine,discharge hole,feed port,polyproplyene board, screen body etc.inclination of drum equipment ,motor is connected by reducer&the drum unit,the drive drum rotate around its axis.
The application of drum screen:
1) Quarry: gravel, clay, mountain meal, sand, etc.
2) Coal Industry: lump coal, coal dust, coal washing, etc.
3) Cold Mine: gold screening and washing
4) Chemical Industry: sifting calcium oxide,compost
5) Metallurgy, construction, mineral-selecting, etc.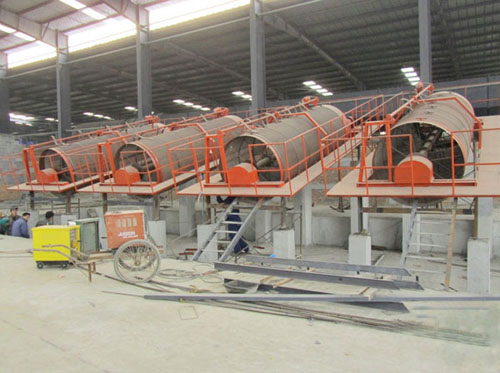 The working principle drum screen:
The rotation of the drum screen is through the variable speed reduction system that at a certain speed of cylindrical screen spin,when the materials go into the drum unit,due to the inclination and the rotation of drum unit,it makes qulified materials come out by the outer screen ;substandard materials come out by the end of drum screen.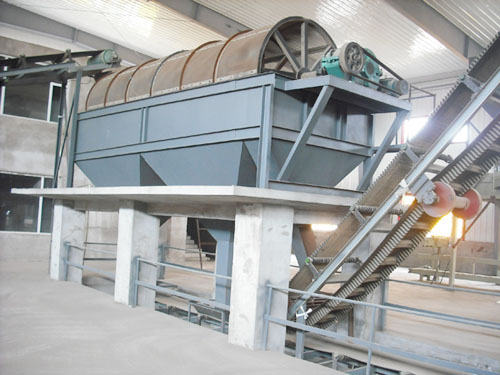 The technical parameter of drum screen:
Model

Capacity

Power

Screen

Diameter

Screen Length

Discharge Size

Input Size

Dimension
(L*W*H)

Weight

(t/h)

(kw)

(mm)

(mm)

(mm)

(mm)

(mm)

(kg)

GTS1015

50

3.0

1000

1500

0~100

<=300

2600*1400*1700

2200

GTS1020

100

4.0

1000

2000

3390*1400*2140

2800

GTS1225

160

5.5

1200

2500

4146*1600*2680

4200

GTS1530

250

7.5

1500

3000

4460*1900*2820

5100

GTS1545

350

11

1500

4500

<=400

5960*1900*3080

6000

GTS1848

450

15

1800

4800

6500*2350*4000

7500

GTS2055

600

22

2000

5500

7500*2550*4800

9600

GTS2265

800

30

2200

6500

8500*2750*5000

12800